The WoW Armory, you've probably heard about it many a times. But have people actually explained what it really is? All that it can do? And how to get to it? I must admit, even with over a decade playing World of Warcraft myself and even it being something I write about semi-regularly, I didn't know half of the things the Armory displays from your account nowadays. So, for those of you that -like me- don't even pay too much attention to what's in your toon's Armory page, I'm going to do a bit of work to explain it all as best as I can.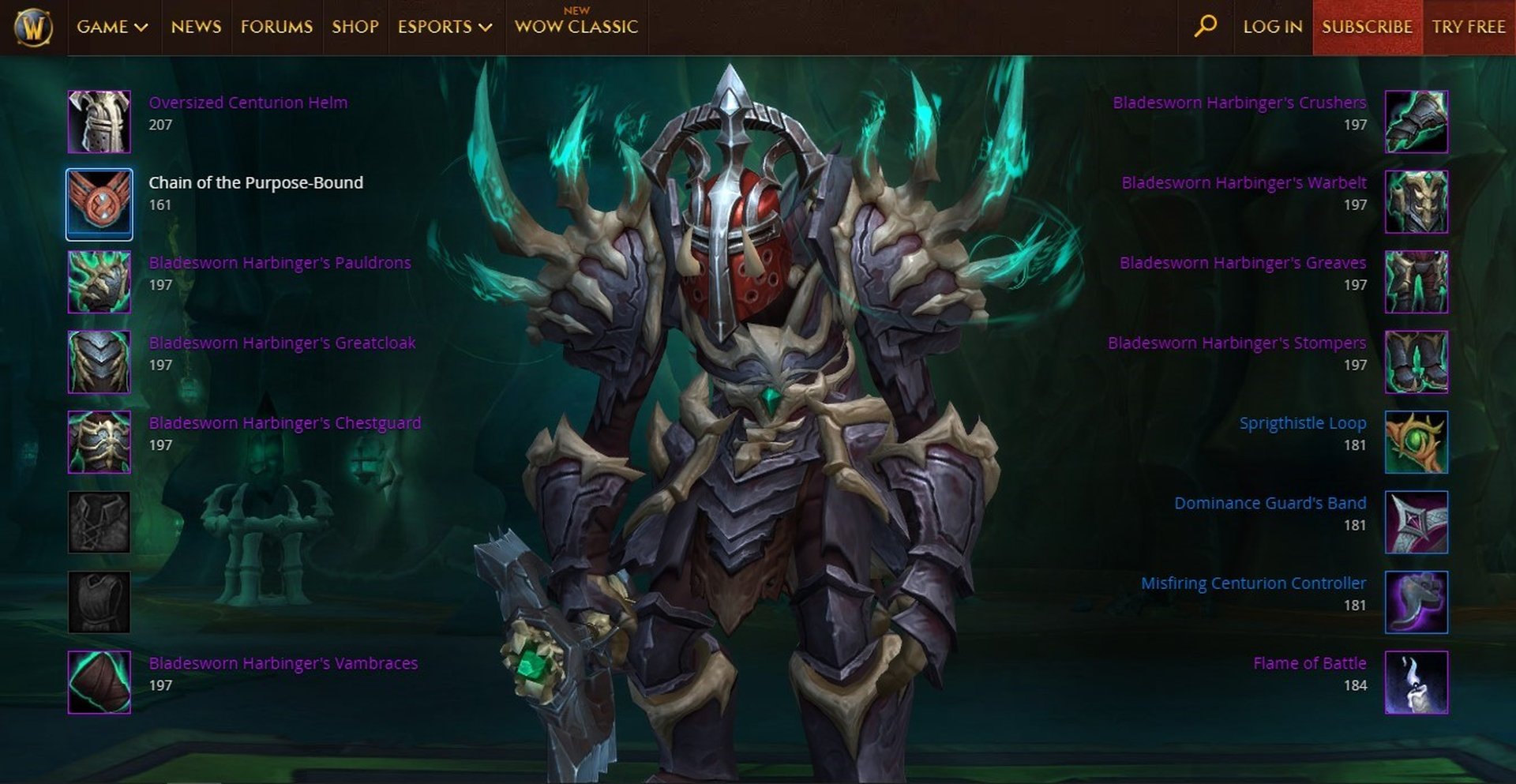 What is the WoW Armory?
WHERE DO I FIND THE WOW ARMORY?
I know probably a decent amount of us barely ever enters the World of Warcraft website -excluding the forums-, but there is a lot more to it than looking for tech support. In the home page you can look up your toons from the top right of the page, right next to the login button, and see many details about them and your account World of Warcraft account.

Where do I find the WoW Armory?
WHAT CAN YOU SEE IN YOUR ARMORY?
The WoW armory main character screen displays an overview of pretty much everything about your character -excluding what's in the inventory-, it is also presented in a very similar way as the in-game interface, so it makes it easier to navigate. Your gear will display its stats, gems socketed, enchantments, your item level and even what transmogs you're rocking. In this main character screen, you can also see what talents your toon has, information about raid runs and difficulty, Mythic Keystones and PvP.
Under your gear you will find and overview of your toon's overall stats and the talents/specialization you have selected, and if you click on the "view talent details" link, the page will take you to another screen that will show you in more detail the talents you've selected and a talent calculator for other specializations and classes.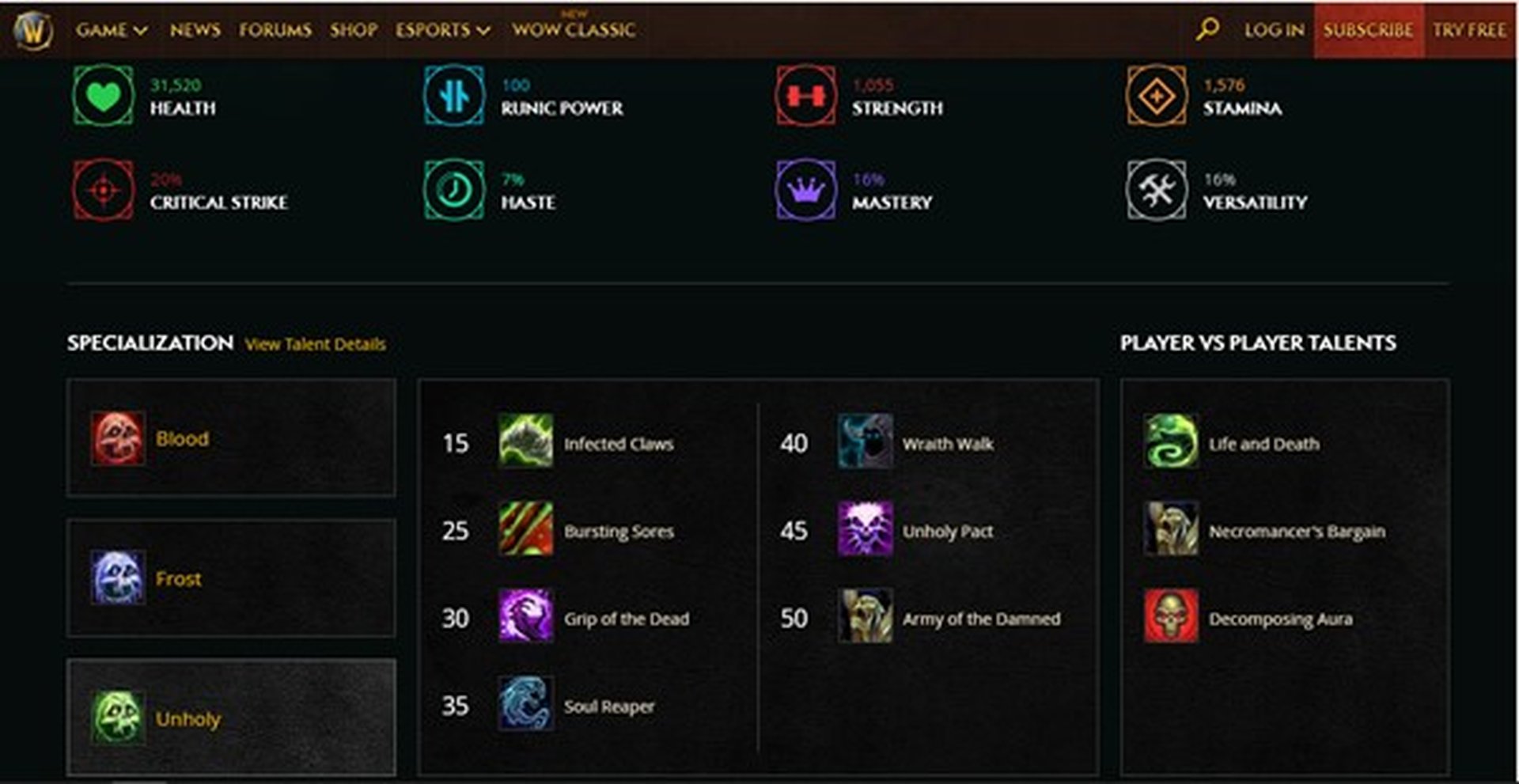 What can you see in the WoW Armory?
PVE AND PVP STATS
Directly under your toon's talents, you will be able to see an overview of the current season's mythic+ dungeons, displaying the highest keystone level completed and the time it took to do so. Right below it you'll find the raid runs detailing how many bosses you've taken down and on what difficulty. But that's just the tip of the iceberg, if you click on the link, it'll take you to a different screen giving details for both Mythic+ dungeons and raids from every expansion of the game, including classic raids.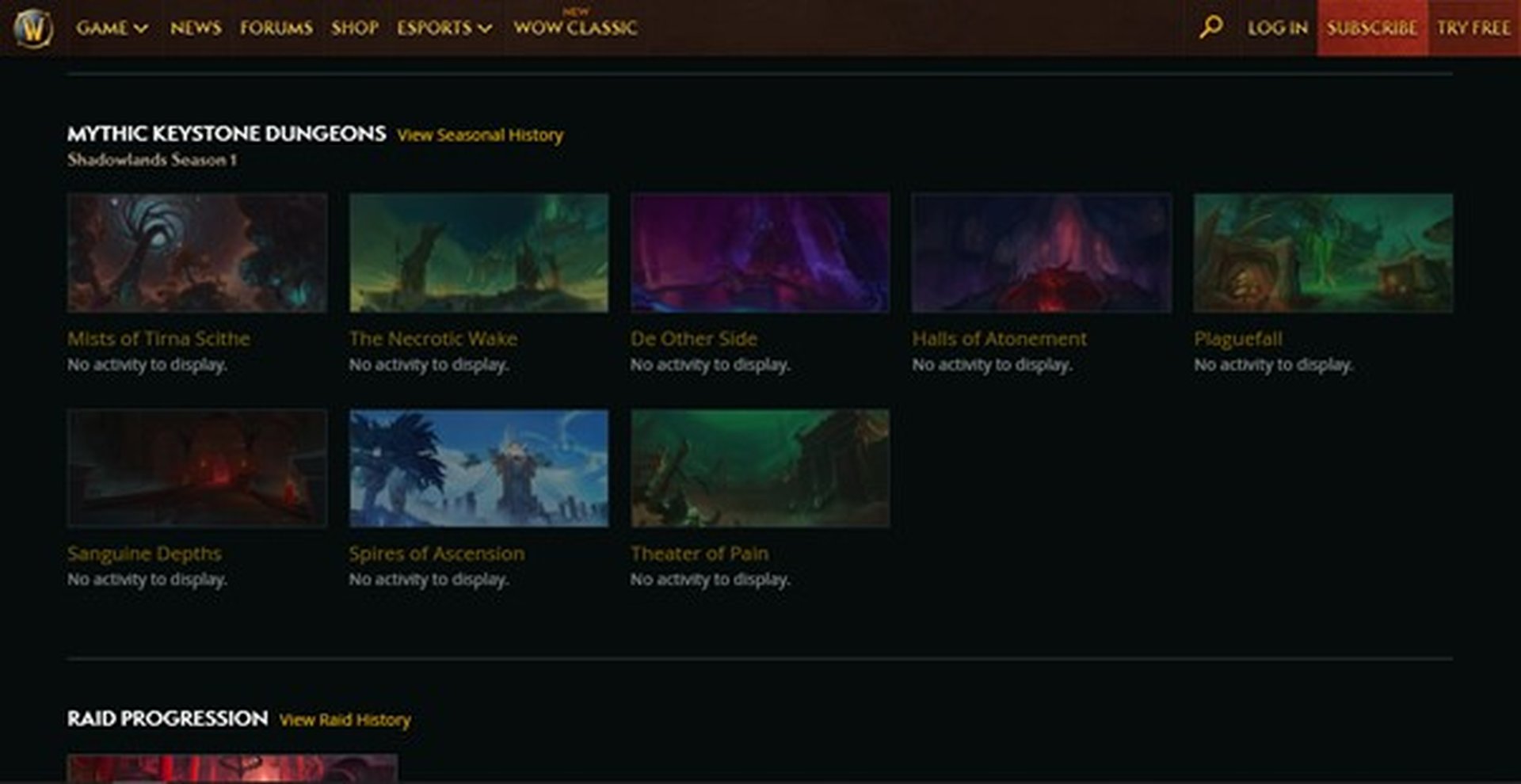 WoW Armory Mythic+ Dungeons
Finally, the last thing in the main page of the armory is the PvP stats. This section of the page displays your current honor ranks, honorable kills, the ranking in your arena 2v2 matches, 3v3 matches and ranked battlegrounds. And right above it is a link that takes you a page that gives a few more details on your PvP career, how many times you've run every battleground, how many wins, losses and the win/loss rate for every one of them.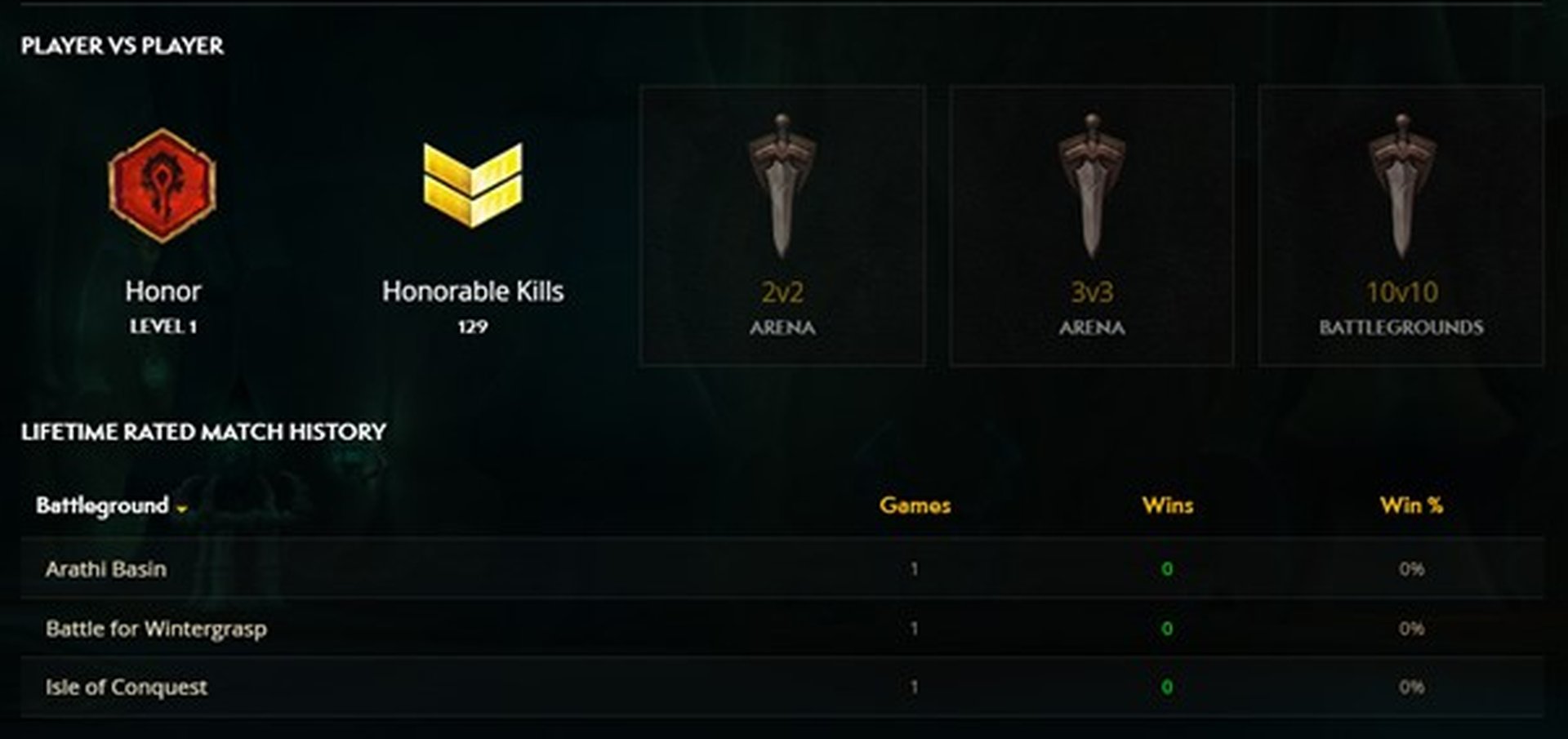 WoW Armory PvP stats
ACHIEVEMENTS
And if you want to show off your many achievements, your armory displays not only character specific details but also account wide details, namely achievements. So, whether you're looking to show off all the achievements you've amassed, look up what you need for achievements you don't have already or look up details about the ones you do have (Like when you obtained them), this tab of the armory will give you all the information you need.
COLLECTIONS
This would probably one of my buddy's account's most visited and loved tab in the whole WoW armory. Here you can find your currently equipped Battle Pet team (And see them in their full glory), and under them you'll see your full pet collection. This works like the character screen; it shows the pets ordered by favorites and then by level like the game does.
On the Second tab of the collections, you'll find all your mounts in order of rarity. Just like the Pet Journal, you can click on the mounts to see their model up close. These journals are a great way to look up your rarest drops, or even that time you crafted a pet, looted that insanely rare drop mount from a raid boss or completed a long, complicated task or quest chain to obtain that one pet or mount you always wanted (looking at you Hivemind). They're all here!
Collections
REPUTATION
And last, but not least, the reputation tab. This one is no different from the other information presented in the armory, it is shown the way the game shows it, starting from top to bottom it shows the reputations from the current expansion and going back all the way up to classic. So, whether you want to feel the love (or hate, depending on your choices in Shattrath) or check how much reputation you need to farm for a mount while at work, you have quick and easy access to it without logging into the game.
WHY CAN'T I SEE MY CHARACTER?
Now, if you've been using the WoW armory for a while, playing the game long enough to know people who do, or run Mythic+ or Arenas regularly, you probably know that the armory has a tendency to be down, take a long while to update information (up to a week if you did a realm change, faction change or race change) or even fail to show the character at all. Even though Blizzard gives a few "solutions" to common issues (Like log in and change a piece of gear to make sure the api updates the transmogs or model) the forums are full of people asking for help with characters that are missing from it or show the incorrect information.
Information about why the armory is so unreliable at times is frustratingly hard to find, Blizzard hasn't really said much about it aside that the api gets cluttered at times or the solution mentioned above. After scouring the forums for bug reports for days and coming out empty handed, all I can do is offer you a few alternatives that might help you if you need a particular piece of information in a pinch.
WOW ARMORY ALTERNATIVES
There are a few alternative resources that are more specialized, and are not tied to the World of Warcraft host, that can show your character's information whenever the armory is down:
Arenamate can help you find your PvP rankings
io is a popular one that gives you a rating depending on your performance in Mythic keys and is used a lot in PUG groups (It is also an addon)
WoW Progress shows a ranking of the best raiding guilds around the world
However, keep in mind most (if not all) of these get their information from the WoW armory api so if the problem you're running into has to do with information not updating, then you're probably out of luck, however all of these have their own hosts and will very rarely be down at the same time as the WoW armory.
I hope this article answered at least most of the questions you might have about this service and what it is used for, as always remember that in the end World of Warcraft is a game so, GLHF!
Did you like this article?
If you did, please leave us a like or share this page, this encourages us to continue writing guides such as this!
What do you want us to write about in our next article?
Comment below! There is an option to comment anonymously.