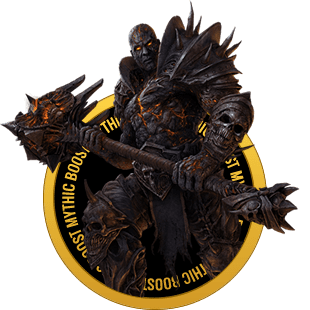 Shadowlands is World of Warcraft's 8th expansion and it brings quite a bit of new content, from the Covenants to Torghast and Castle Nathria, not to mention all the new dungeons for Mythic+, this expansion shows quite a bit of promise. To make your experience in this new expansion the best it can possibly be, Mythic Boost's team of World of Warcraft professionals has prepared a set of services just for you.
We offer Mythic+ Carry services to kickstart the season, a raid boost so you can be one of the first ones to get your hands on Castle Nathria's loot (Including the Rampart Screecher from the Glory of the Nathria Raider achievement.), item level and powerleveling boosts to make the grind easier and faster, and many other services so you can be ahead as soon as Shadowlands drops.
So, don't let the chance of getting the best out of this new expansion, get yourself the best WoW Shadowlands Boosts there are with Mythic Boost!
Reviews
This service is rated 4.96 out of 5 according to 25 reviews.
Bravo! Another perfectly executed service. Thank you Rick, Art, and Brian!
I can't believe I used other services before. These guys are the most organized, professional and friendly. From now on, it's only MythicBoost for me!
Quick and excellent service ,would recommend.
Wow that was a fast carry. I just love they way they handle their orders. The whole process is extremely smooth and the staff is very friendly.
great fast runs but if you dont pay for the extra loot traders they will not give you anything they loot no matter how much they dont need it
Seriously great customer service and walking through the process before purchasing. Everything was awesome and I'm using it again, thanks Rick.
Another amazing set of runs. Thanks!
Must be my hundredth run with them. Service gets better and better!
Amazing performance guys!