MMOs and games in general nowadays have an immense amount of work put into them, from lore, music, writing, easter eggs and even hidden mechanics that play into how the game works for the player. New World is one game that has many hidden nuances that can make or break the game for anyone trying to play the game, which seems to be a trend lately, especially in MMOs. This can end up being a turn off for some players -just like myself when I started playing Warframe-, but what I didn't know back when this bothered me is that this kind of game really makes the communities shine. One such community that has tons of information about the game is the New World Reddit community, or the subreddit if you want to be more technical about it.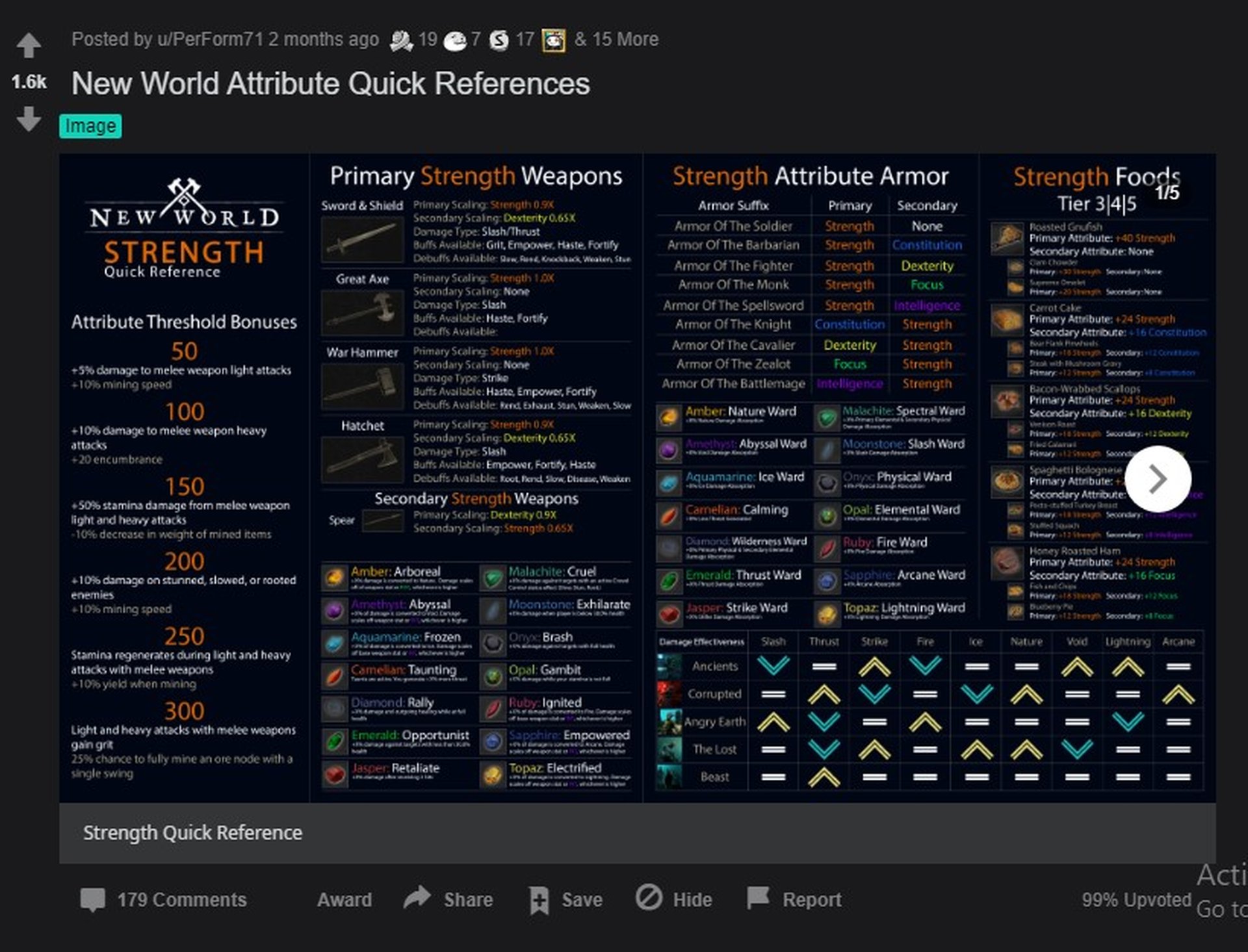 New World Reddit Quick References
Of course, there are people doing these things in other places (like YouTube for example), but if you dig in a little deeper, most of this data goes back to the New World Reddit community. Players spend a lot of time and effort figuring out how the game systems work, making videos and charts about how to level up professions efficiently, the quickest routes and habits to level up your character, how the luck system works and how it affects rare materials drop rates -seriously, it is an interesting read if you're into that stuff- and many, many other nuances about the game in the New World Reddit.
But that's only the tip of the iceberg really, players who are veterans -especially those that have been playing and working out how the game really works since the closed betas- are always happy to help answer questions in the New World Reddit community. The idea is to make the experience inviting and welcome new players into the game. In there you won't just find guides, charts, videos and veteran players answering questions though, the community is open to discussions, memes, art and suggestions.
Another vital piece of information the New World Reddit community can help you get your hands on is the news about the game. There are regular news updates from Amazon, and -like any other game- after launch, there will be a greater flow of information coming not just from their website, but from interviews, developer logs, streams, etc. Too much for any one person to keep up with on their free time and too many places to keep an eye out by yourself to know everything there is to know about the game. But in the New World Reddit you'll always find the latest news, that way you won't have to be fishing around for blogs, news articles and streams. In there, people post discussions, sum up the news and even link them if you'd like to read/watch the whole thing.

New World Reddit Company Recruitment
Now, for new players -or people new to reddit as a whole- you can find useful information about starting out, there are links in the boxes to the right with resources to help you get started with anything New World related. From company recruitment threads, guides, builds, maps and even databases, there will always be easy access to all the information you might need on your way up to level 60. Over that there will be the latest information about events, a link to the New World Reddit rules, information about companies and tags to navigate the content in the subreddit.
The New World Reddit community -like any other decently sized community online- has their own mods. As of the date of writing this article they have over 120 thousand people in their community, naturally they'll need people to keep an eye on things and curate the content to make sure it doesn't break the community's -or Reddit's- rules. But mods are not just the New World Reddit police, they will pin the most relevant threads at the top of the list, that way everyone will have quick and easy access to weekly discussions, important game news, company recruitment threads and so on and so forth.
So, don't be afraid of joining a community of like-minded players and discover why some of us have fallen in love with this game. We are open to any new people and welcome any content too, so if you're an artist, are good with figuring out little hidden game mechanics or are simply willing to share your insights in the game, don't hesitate to join the New World Reddit community. Simply go into the subreddit at https://www.reddit.com/r/newworldgame/ and fall in love with the game.
Did you like this article?
If you did, please leave us a like or share this page, this encourages us to continue writing guides such as this!
What do you want us to write about in our next article?
Comment below! There is an option to comment anonymously.