Here at MythicBoost we pride ourselves on our customer service, the professionalism from our boosters, our customer feedback and our overall efficiency and security during any given boost. We are an established business looking to branch off into different genres of games, we have been providing a quality World of Warcraft boosting service for many years now and have excellent customer service feedback and have 100% order completion satisfaction. We offer a positive experience for our customers every time, we only guarantee the best results from our team and have a unique system that holds all of our players accountable for their work, we make sure our team is fully comfortable and capable with an order before we even offer them in our shop. We are here to be the best Fortnite boosting service available, no questions asked.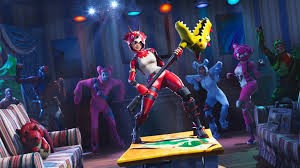 Fortinte Wins, Fortnite Boosting Service
About Fortnite
Fortnite Battle Royale is a free-to-play battle royale video game created and published by Epic Games. It was released as an early access title for Microsoft Windows, macOS, PlayStation four and Xbox One in September 2017, for iOS in April 2018, the Nintendo Switch in June 2018, and an Android version in August 2018. It is a spin-off from Epic's Fortnite: Save the World, a cooperative survival game with construction elements. Fortnite is without a doubt one of the most popular games on the market currently.
What You Can Expect From Us
We will be offering a variety of packages involved around win boosting or leveling. You can either have us play on your account for you, or you can fight alongside our professional players to ensure you receive wins. As you all know, taking the time to learn the game on your own can be very tedious and time consuming, which is why we offer our professional players at your fingertips. You can learn alongside them and play with them, ask questions or just shoot people in the face! Win boosting is where one of our highly skilled boosters logs into your account and gets you a win in any queue type you'd like! We also have the option to duo queue with the booster meaning you can play your own account while playing with a top Fortnite player! We assure your account security, ensuring you will not get banned. All of our boosters are professional players that use no third party programs. We offer streaming services for people that either want reassurance of this or would like to watch the boost as it's happening. All order will take a variety of different times based on your specific order. We assure you that we will complete the order as fast as possible, you will be given an ETA (estimated time of arrival) which will be a general estimate to how long we think the boost will take.
We have hands on customer service that are available 24/7 allowing you to keep track of your order at all times of the day. You will have constant access between you and the booster so you can contact the booster with any updations or information you need. As Fortnite is growing and expanding its community we are also growing and expanding ours. We pride ourselves on constantly improving our services and knowledge, so we can offer our customers the best service possible. We want to make sure our customers are satisfied with the results and receive what they have paid for.
We hope you enjoyed this article and look forward to any future business we do with you!
Did you like this article?
If you did, please leave us a like or share this page, this encourages us to continue writing guides such as this!
What do you want us to write about in our next article?
Comment below! There is an option to comment anonymously.